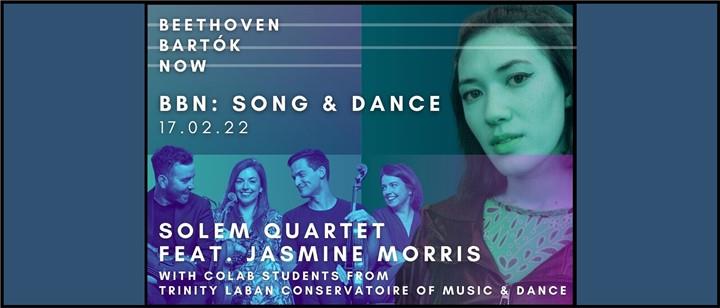 Trinity Laban CoLab 2022: Beethoven, Bartók Now : Song & Dance
Beethoven Bartók Now: Song & Dance is a one-hour journey of music and movement, using those most intrinsic and instinctive aspects of human creativity – song and dance – as a springboard.

The performance piece, the culmination of the collaboration between the Solem Quartet and students from Trinity Laban's CoLab project, will be presented in playlist form, interweaving individual movements from Bartók's folk-driven 4th Quartet, Beethoven's monumental op. 127, newly created content, and a world premiere from composer Jasmine Morris inspired by Butoh dance.

Don't miss the opportunity to witness this exciting and original performance piece.

Beethoven Bartók Now is a ground-breaking project from the Solem Quartet, one of the most innovative quartets of their generation, which brings together the late quartets of Beethoven and the quartets of Béla Bartók, uniquely reimagined with music from composers of today.

This part of the evening draws on repertoire from Bartók's Quartet no. 4, Beethoven's Quartet no. 12, op. 127 and Jasmine Morris' Hitogata (world premiere).

Before the Beethoven Bartók Now: Song & Dance event, Professor Bruno Heinen and students derive a contemporary improvising perspective on Béla Bartók's final set of Mikrokosmos. The group will use the last book of Mikrokosmos as a starting point for a new set of pieces that tell the story of our collective relationship with child-like improvisation.

Performers

• Solem Quartet (Amy Tress, William Newell, Stephen Upshaw, Stephanie Tress)
• Jasmine Morris
• Professor Bruno Heinen
• Students from Trinity Laban Conservatoire of Music and Dance

Running Times:

7.30pm Mikrokosmos
8.00pm Beethoven, Bartók Now: Song & Dance

There will be a break between the evening's two performances.

Great Hall, Blackheath Halls

Tickets: £18 | £12 concessions (Under 25s and JSA); Under 18s Free

Free entry for Students from Trinity Laban Conservatoire of Music and Dance.

Entry includes both performances.