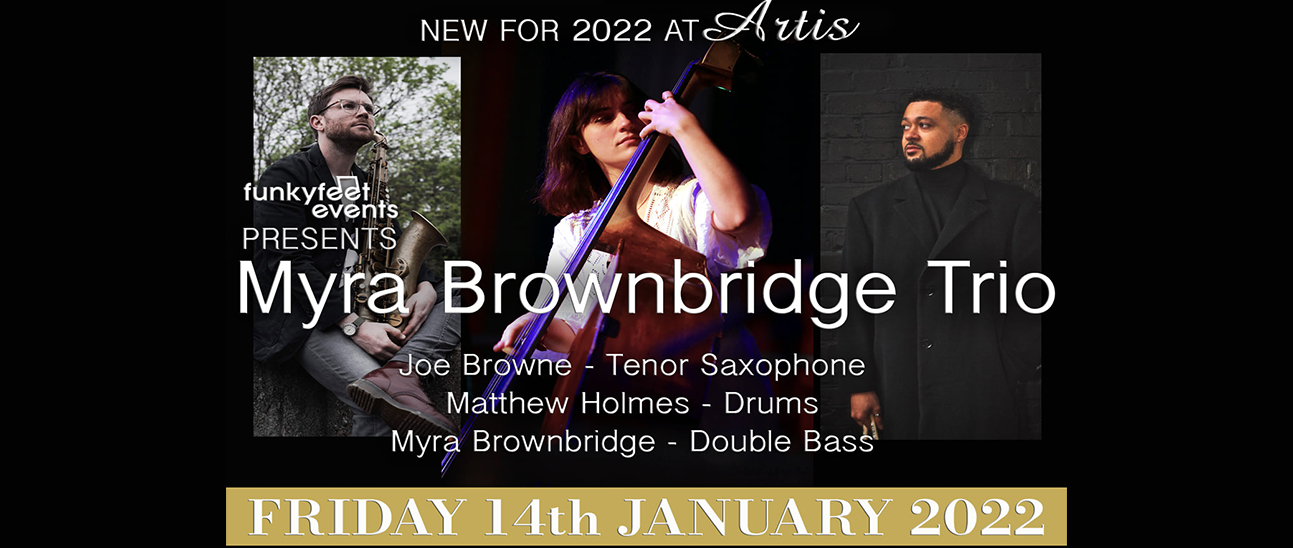 NEW FOR 22 AT ARTIS BLACKHEATH
Funkyfeet Events in conjunction with Artis Blackheath are honoured to have the Myra Brownbridge Trio open "New For 22" … gigs at the now iconic South London go to venue for live music.
Comprised of Joe Browne boasting powerful tones on the tenor saxophone, Matthew Holmes holding it down on the drums with splashes of rhythmic creativity and Myra Brownbridge providing deep grooves on the double bass. The trio met working on a NYJO education tour of Lancashire and Cumbria discovering an electric musical connection, they will be performing original compositions, some old favourite jazz standards and will be drawing inspiration from Joe Henderson trio, don't miss their debut performance outside of the classroom!
Joe Browne is a musician, composer and workshop leader.An alumnus of Birmingham conservatoire and Berklee college of Music in Boston, he now enjoys a busy schedule on the London jazz scene. He has performed everywhere from the Royal Festival Hall to Ronnie Scott's and, also at concerts and music festivals in the UK, Europe and beyond. An extremely active educator, he is known for his jazz and creative orchestral workshops. He is an associate educator for the National Youth Jazz Orchestra and the director of jazz education at Deal Music and Arts.
Originally hailing from South Yorkshire, Matthew Holmes is a Birmingham-based drummer and composer making a name on the UK Jazz scene at venues including Southbank Centre, Café OTO and Ronnie Scott's. Some of the artists Matthew has played with include notable figures such as; Soweto Kinch, Orphy Robinson, Tomos Williams, Norma Winstone, Nikki Iles, Alan Barnes, Percy Pursglove, Ian Shaw, Arnie Somogyi and Dave Newton.
A recent graduate of Trinity Laban, Myra Brownbridge enjoys a busy career playing double bass, composing and teaching jazz across the UK. In the past year, notable performances include Ronnie Scott's and 606 Club alongside Tony Kofi, Deal Jazz Festival with Norma Winstone and Nikki Iles and a couple of performances with Geroge Hinchcliffe's Ukulele Orchestra of Great Britain.
Book today: www.artisblackheath.co.uk Funkyfeet Events would like to thank Artis Blackheath for supporting the live music scene throughout the very difficult 2020-2021 and now 2022 in their series of "NEW FOR 22" live events.
You are invited to return the support by sampling the Artis Blackheath menu and award winning cocktails.
Doors open at 17:00 so arrive early to drink, dine and support this amazing live music platform and restaurant.
FREE Entry to all Artis Blackheath customers.