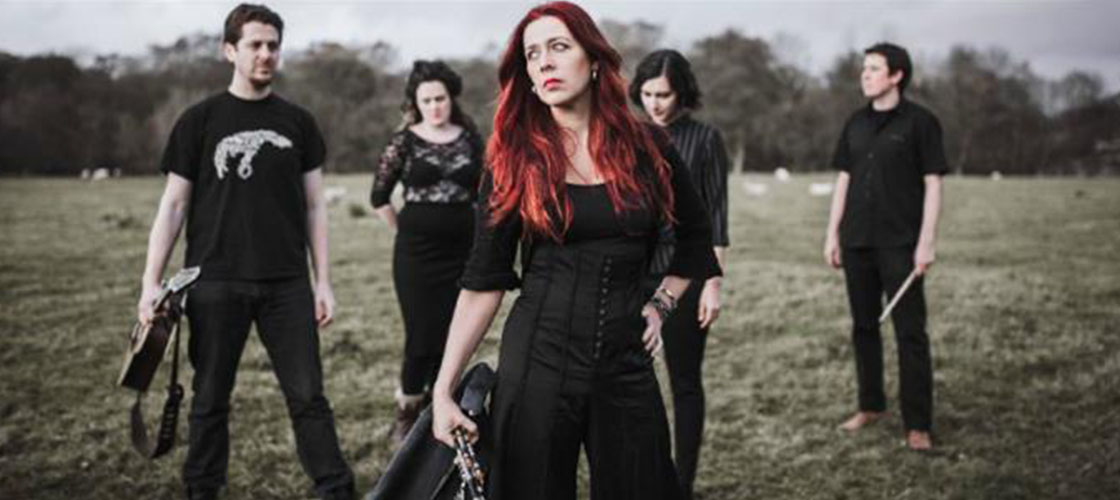 Kathryn Tickell & The Darkening
SUN 17 OCT 8pm* | Great Hall
Kathryn Tickell Northumbrian pipes, fiddle, vocals
Amy Thatcher accordion, synth, clogs, vocals
Kate Young vocals, fiddle, charango
Joss Clapp guitar, acoustic bass, voice
Kieran Szifris octave mandolin
Joe Truswell drums
"Hollowbone is a wonderful, brave, and intoxicating album" Folk Radio UK
"a clever shape-shifter of a record, founded on an exceptional five-piece band but unafraid to veer into a cappella voices and ambient moods" **** The Observer
Kathryn Tickell & The Darkening are masters of their art and between them have worked with musicians including Seth Lakeman, Sting, Soumik Datta, The Shee, Carthy, Oates, Farrell & Young and many more.
Kathryn Tickell herself is the world's foremost exponent of the Northumbrian pipes,a composer, performer and successful recording artist whose work is deeply rooted in the landscape and people of Northumbria.
Kathryn Tickell & The Darkening bring some of the oldest Northumbrian tunes and songs to life, intermingling them with new material and binding it all together with contemporary resonance and attitude.
Fresh sounds merge with ancient influences. Expansive sonic textures are created. Dazzling duets from Kathryn's pipes and Amy's accordion contrast with the dark and dirty riffs and rhythms of Kieran's octave mandolin. Intrepid world-traveller Kate adds her fearless explorations and the inventive use of drums and percussion unites the ensemble.
TICKETS: £22
Running Time: approx. 120 mins including interval
Watch live at Sage Gateshead, March 2019 Cockle Bridge
Watch live at Sage Gateshead, March 2019 Hushabye Birdie / Hexham Lasses
* Show rescheduled from Oct 2020