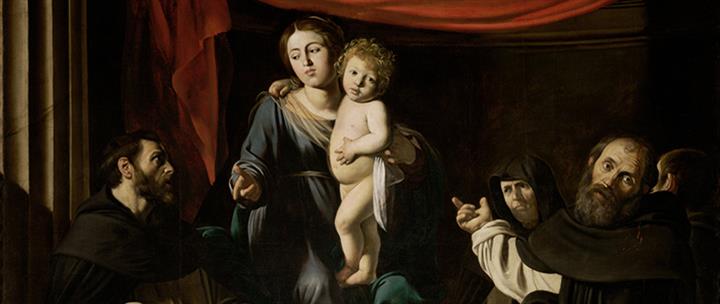 Caravaggio: Rebel With A Cause
| Zoom Online
Caravaggio – one of the best known names today. A man of proverbial rebelliousness, painting in a style which he knew would drop a bomb on the art world he grew up in. He painted with startling immediacy, rejecting his peers' obsession with highly artificial designs and stale quotations from earlier works of art. But he was also fortunate to be painting at a time when the Church wanted to harness the power of his art to enforce its message. This lecture considers the unlikely alliance of artist and patrons, considering why the establishment was prepared to accept him, outrageous lifestyle and all, and at the same time, examining why his art is so powerful for us today.
Chantal Brotherton-Ratcliffe graduated from Edinburgh University with MA in History of Art, and completed her PhD at the Warburg Institute, University of London. She trained briefly as a paintings conservator, but her utter ignorance of Chemistry drove her to the more forgiving embrace of Art History. She has worked for 30 years at Sotheby's Institute of Art, and for a number of institutions in London, as a lecturer teaching a wide range of topics within fifteenth, sixteenth and seventeenth century European art. Her interest is in the approach of the traditional connoisseur, teaching the analysis of those stylistic features of a painting or work of art, that can tell us who the artist is, and when a painting is a copy, good or bad.
TICKETS: £12
At checkout please select Print my tickets at home for full details of how to access the lecture online to be sent to your email.
Zoom Entry: 5.15pm | Lecture Time: 5.30pm
Running Time: approx. 75 mins
Presented by Friends of Blackheath Halls