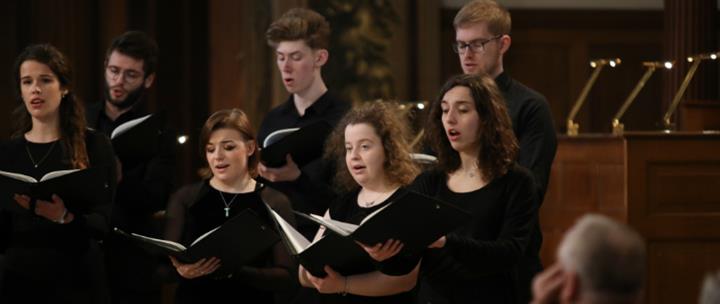 Trinity Laban Chorus
Rebecca Dale Materna Requiem (excerpts)
Eleanor Daley Set Me As A Seal
Meredith Monk Panda Chant II
Judith Weir Drop Down, Ye Heavens, From Above
Bernstein Chichester Psalms joined by the Old Royal Naval College Trinity Laban Chapel Choir
Bernstein West Side Story (excerpts) performed by Musical Theatre Show Choir
Conductor Dominic Peckham
Always a highlight of the autumn season, Dominic Peckham returns to work with Trinity Laban students in this varied programme for massed voices by four living female composers.
Known for writing both concert and TV and film music, Rebecca Dale (b. 1985) was the first female composer to sign to Decca Classics. Interweaving contemporary poetry with the traditional Latin Mass text, and utilising melodies Dale wrote when she was a child, her new work Materna Requiem is a moving and beautiful tribute to her late mother.
Prolific Canadian choral and church music composer Eleanor Daley's (b. 1955) beautiful setting of the biblical Song of Solomon Set me as a Seal for unaccompanied mixed choir showcases her remarkable gift for melody and the weaving together of text and music. The Trinity Laban alumnus is also a church choirmaster, choral clinician and accompanist.
Pioneering multimedia artist and interdisciplinary creator Meredith Monk (b. 1942) has broadened the boundaries of musical composition. She is known for merging art forms, combining folk music with minimalism, and exploring extended vocal technique. In Panda Chant II (1984), the mixed chorus builds a chant, adding clapping, ululation and rhythmic stamps to create an engaging and fun holistic performance piece.
In 2014, prolific British composer Judith Weir (b. 1954) became the first woman to be given the post of Master of the Queen's Music. Drop Down, Ye Heavens, from Above (1984) was first performed by the Choir of Trinity College Cambridge as part of their Advent Carol Service. Beginning in unison, the music swells to luscious 8-part harmony and back again.
Next Event
Date

Jul 11 2020

Time

10:00 am - 11:00 am

Sponsored By