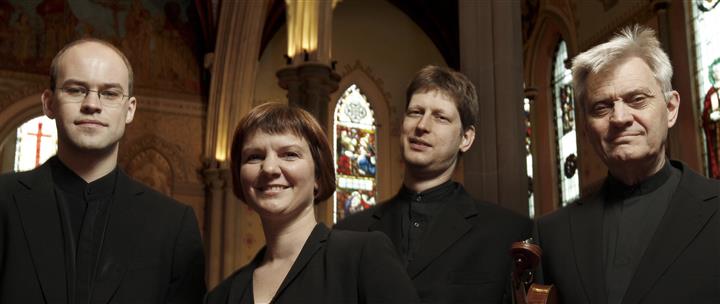 Brahms Sextets
Salomon String Quartet
Simon Standage and Catherine Martin violin
Adam Romer viola
Andrew Skidmore cello
The Salomon String Quartet,
formed in 1982, is established as one of the world's leading ensembles
specialising in the historical performance of the Classical string
quartet repertoire. It has toured extensively in Europe, the USA and
Canada, the Far East and Australia, as well as making regular
appearances at British music festivals and societies. The Quartet has
made many radio broadcasts for BBC Radio 3 and on European radio
stations. Although its principal CD recordings have been of Haydn and
Mozart's string quartets for Hyperion Records, its repertoire covers all
the major composers of the Classical period as well as many of their
less well-known contemporaries.
Violist Max Mandel
enjoys a varied and acclaimed career as a chamber musician, soloist,
orchestral musician and speaker. He is Principal Viola of The Orchestra
of The Age of Enlightenment as well as a member of the trailblazing
ensemble FLUX Quartet. Born and raised in Toronto, Canada he divides his
time between New York and London.
Lucile Perrin
lives in Paris and plays across Europe with various groups and
orchestras, amongst which Orchestre Revolutionnaire et Romantique, Sir
John-Eliot Gardiner, Orchestre les Siècles, François-Xavier Roth, Le
Concert de la Loge, Julien Chauvin, and the piano trio Impromptu. She
is also very interested in musical education.
Next Event
Date

Aug 08 2020

Time

9:30 am - 12:15 pm

Sponsored By